what we can do for you
Our Services
We want to bring all your software development needs to fruition. Whether you need a mobile application to expand your business, enterprise solutions for increased productivity and efficiency, or customized software to bring a device to life, we can handle it all.
View All Services
HOW WE WORK
Our Process
We like to form close relationships with our clients so that we can better understand all their needs and requirements. We want you to feel as though we are just in the cubicle right next door. The more we know before beginning the software development lifecycle, the smoother the project will proceed overall through the four phases of construction: strategy, design, development, and delivery.
Strategy

Design

Development

Delivery
Strategy
Before software development can begin, we assess your goals and budget so we can prepare the best strategy and appropriate timeline for your project. We then do thorough research to decide on technologies and prepare the product specifications and other documentations. All of these resources help guide your project to ensure it remains on time and within budget.
Design
Once strategizing is complete, our talented UX designers translate your vision into detailed wireframes to showcase workflow and basic screen layouts. From wireframes our UI designers create rich and vibrant screen designs. Only when all designs are finalized and approved by you do we move on to the software development phase.
Development
Throughout the development of your project, we constantly look to improve upon quality to meet the needs of your end users. With consistent communication and nimble software development, our team can quickly make improvements without impacting the product's overall performance.
Delivery
After the release of your product, we provide dependable support and maintenance to make any necessary quality adjustments. We work quickly and with empathy for your users, resulting in high quality products your users will love. Our Mission
Our customers are valued above all else. For this we prioritize communication, making sure we keep you in the loop at every turn. We want to ensure you are receiving exactly what you expect, and won't settle for anything else.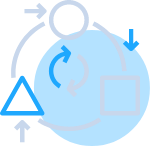 Internal R&D
We stay ahead of the curve by actively engaging in research and development. This is important for providing you with the most advanced technologies to date.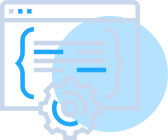 Active Code Arsenal
Over the years, we have compiled a large code base in order to speed up delivery time and reduce development costs for you.


Diverse Clientele
Our clients come in all sizes and industries. We have worked with everyone from startups to Fortune 100 companies and government agencies.


Nimble
Our responsive development team can adapt at the drop of a hat, which is something larger development firms simply cannot do.
Our Clients
What our clients think about us
Reviews
More About Us
We have been working with Odyssey for a couple of years now. The entire team is great, especially Karim. They promised to deliver a world class APP for our business and have not disappointed. They redesigned our Website as well and exceeded our expectations... We will partner with them for many years to come!

I want to thank your team for the outstanding work in developing our state of the art software that allows our clients the ability to enroll into our program online. Thanks to Odyssey, I can proudly say that DebtWave is the first credit counseling agency to bring an online solution to the public. Your team has been a pleasure to work with. You set clear expectations and delivered results as promised. We will definitely be back for any future projects or enhancements! Thanks for everything!

We worked with Odyssey to develop our online app, ShortFall. Their team did a great job managing the entire process and design. We are very pleased with the high quality, polished final product. We had challenging budget constraints and several departments helping with the project as well as timeline delays. Odyssey worked well to meet our needs and we recommend them for application development.

I have been working with the Odyssey team now for just over 1 year. Their professionalism and integrity to get the job done right, far surpasses the expectations that I had originally envisioned when agreeing to work with them. Karim is a great partner to work with, and his 23+ years of knowledge of the different available technologies is vast. We never missed a development goal, and our project was delivered on-time and within budget. You can only achieve this with an experienced team who truly knows what they are doing. I was very pleased with the work they did for us, and would use them again in heartbeat.

I have worked with Odyssey Computing for close to two years. I find them efficient, profession and very focused on all projects that we have done together. Their knowledge and expertise is of the highest level. I would recommend Odyssey to anyone interested in their services.

Bob Moyer

Chief Executive Officer

We have had two experiences with Odyssey Computing over the last few years. On both occasions, we developed iPad applications in unique new areas. Odyssey did a great job working effectively with us to understand the initial requirements, views, and animation options for the programs. They effectively helped us to manage the inevitable learning that occurred as the application developed and was tested by user representatives. Our relationship was very positive, productive, and valuable in getting to a great product.

Odyssey would be my first choice to contact in the future for assistance with any new iPad applications. Their efforts to help define requirements early while, also understanding the need to be flexible during development meant the difference between a product that delighted the user and one that simply worked.

Thanks to the team at Odyssey for outstanding contribution to success of the PiXiE product. Odyssey intuitively understood Path 1 business objectives, shared in our PiXiE product vision, quickly settled into a distributed software development team, and stayed on schedule and budget. Without hesitation Path 1 recommends Odyssey and we look forward to working together again.

Odyssey Computing Inc. has been a great partner of Ameranth since 1999. Their team offers a unique combination of vision, execution and great value (all together) and have pursued all product development and our relationship in a partnering manner. Odyssey Computing's leaders are visionary - who are technically astute in all respects, while steering a steady course of practical business results – that not only meet, but have exceeded all of our expectations on multiple vital software projects over the last decade. They are a pleasure to work with (actually better said to 'partner' with) since they have approached each of our projects as if it were their own.

Symfonee Corporation has been partnered with Odyssey Computing for over 10 years. Odyssey has always provided us with a high degree of technical expertise both in our website and application architectural design and software implementation. In addition, they have always provided excellent real time support for fixing problems or customer requested changes.

Richard Bergfeld

CEO & President

We have used Odyssey Computing as a software consultant to us for over 10 years. The reason why we use Odyssey is because the deliverables and services they provided are always of high quality and they are extremely reliable in meeting schedule and budget. The competencies we rely on Odyssey to provide us include: software architecture definition, software design, database design, software implementation, web server applications, web client application, desktop applications, mobile applications, graphics design, etc.

Their strength is user interface design and development of rapid solutions. I have used Odyssey in the past and not hesitate to use their service again.

Leon Amen

Technical Director

The Odyssey Computing team is very innovative and always on the cutting edge in all aspect of software development; especially in the area of user interface design for web sites and custom applications. The entire team has exceptional ability to adapt and adjust to customer's changes in requirements and schedule and always delivered the products on time and under tight budget. While working with the Odyssey Computing team for over ten years, their strength is in the ability to turn user's requirements into working software in a very short time; this allows us to get the products in front of the user faster to get feedback and ensure that the product is on the right track. Odyssey Computing is a great addition to any team for short term or long term projects. I highly recommend their talent to anyone and your products will be done on time and on budget.

Kun Chap

Software Engineering Manager

I highly recommend Odyssey Computing. I had the pleasure of managing a project with Odyssey (part of a larger project with our customer). Karim and his entire team were timely, responsive, exceeded all expectations, and resolved all issues with professionalism and speed.

During the project, Odyssey was nominally responsible for developing the software, and a separate company was responsible for designing the final user interface. Because of Odyssey's ability to listen to the user and implement suggested changes, very small changes to the software were needed when the final user interface design was approved by the customer. This saved much needed time and money as the project came to a close.

David van Gogh

Program Manager
We can't wait to hear all your ideas!